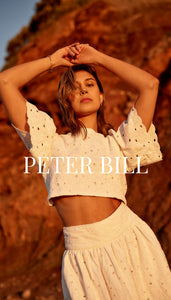 The Peter Bill Atelier
A space where we will continue to work on our label and allow the public to view, try on and shop our collections alongside some of our favourite brands.
The concept of our new space is to showcase and stock high quality products that embody unique craftsmanship and beautiful designs. 
A space where small business owners can also showcase their products through pop ups and share their skills through workshops. 
We want people to enjoy experiences! 
We feel honoured to be moving into a building full of old charm and a part of Tamworth's history.
When we are open we ask you to pop in, say hello and have a browse. When there is a workshop or an event on, we ask that you gather your friends and book a seat. 
We look forward to welcoming you to our new space in the coming weeks. We look forward to starting a new chapter and you being a part of it.

Testimonials
Testimonials
Testimonials